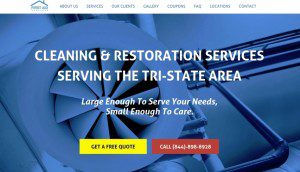 First Aid Services
First Aid Services is a family owned and operated company serving the Tri-State area.  We have been providing honest, top quality carpet cleaning services, air duct cleaning, dryer vent cleaning and water damage,  There is no a job "too Big" or " too Small" for us to handle.
Friendly and knowledgeable office representatives will take their time and give you their undivided attention. making sure that you feel comfortable and that you received all the information needed.  We are known for high quality work which comes from experience.  Our certified, professional and well trained workforce is always ready to answer any questions or concerns that you may have, and come up with the best solution for your particular situation.  We pride ourselves in honest and helpfulness.
Visit this carpet cleaning company in New Jersey.