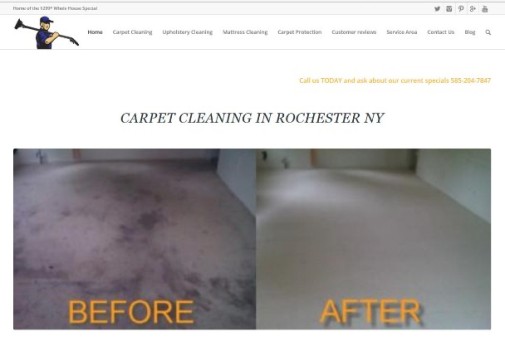 Carpet Cleaning Rochester NY
For over twenty years, Whole House Carpet Cleaning has been providing first-rate Carpet, Area Rug, Upholstery and mattress Cleaning Services in the Rochester New York area. Our professionally trained staff and environmentally friendly cleaning techniques has made us one of the best Carpet, Oriental Rug, Upholstery and Mattress Cleaning Companies in the industry. Have a truly hassle-free experience with our best deals: Whole House Special for only $299!* (call for size limitations) NO coupon needed, NO bait and switch, NO hidden charges; we simply provide you with the best possible cleaning at the lowest possible price giving you outstanding value.
Cleaning your carpet with a regular vacuum cleaner is not enough. A regular vacuum cleaner can eliminate the dust particles that are present on the surface of your carpet but you will not be able to clean the particles that have been embedded inside the carpet fibers. Attempting to get rid of stains with regular "over-the-counter" cleaning products and/or rental machines are not only difficult, but can actually ruin your carpet. Most products contain harsh chemicals or bleaching agents that will permanently discolor your carpet. Home or rental machines lack the extraction power to sufficiently remove hidden soil and will leave behind a lot of undissolved shampoo which will cause your carpet to re-soil much faster. Additionally, the remaining soil in the carpet can be very abrasive and cause excessive wear in high traffic areas. Eventually the fibers will start to unravel and frey, releasing dust particles and fiber into the air. Relying on a professional Rochester NY carpet cleaner is an important part of your carpet maintenance. Most manufacturers recommend having your carpets professionally cleaned at least once a year, and many warranties are void without doing so. Call Whole House Carpet Cleaning of Rochester NY, and we will care for your carpet as if it were our own.